Healthy, gluten-free vegan pancakes is one very tall order!!! I have spent years trying to find a recipe that tastes great, but I always fail, so I decided to come up with one myself. After a year of making these fluffy guys almost weekly, I can happily say they still satisfy all my cravings. These pikelets are great for little hands, baby-led weaning or  school lunch boxes.

Method
You make these just the same as any regular pancake or pikelet recipe, but here are some tips I found useful.
These pancakes work so well because it uses vegan buttermilk. You want to start out by making this first and leave it to thicken up while you get the rest of the ingredients ready. It sounds really complex to make, but don't worry, its just plant milk mixed with some vinegar.
For a smooth creamy texture, I like to blend the bananas instead of mashing them. This is entirely up to you, but if you choose to mash them, I suggest adding the banana after you've mixed all the other ingredients in order to avoid lumps from the flour.
If you don't have a hand mixer, no problem. Mixing by hand works just as well.
Enjoy!
Sandy xo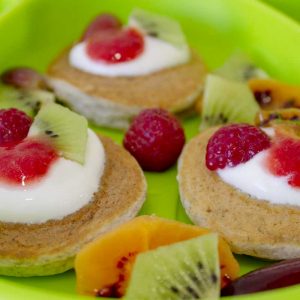 Healthy Vegan Pikelets
These vegan pikelets are absolutely delicious and great for small hands and school lunch boxes. It contains no dairy, egg or gluten so they are great for anyone with allergies. Best yet, there is no refined sugar in this recipe.
Ingredients
1. 1/4

Cup

Plant-based milk (coconut, almond or soy)

1

tbsp

Vinegar (white or apple cider)

1. 1/4

Cup

Gluten Free Flour (all purpose flour will also work if not GF)

2

tsp

baking powder

1

pinch

Salt

2

Ripe Bananas (blended or mashed)

1

tsp

Vanilla extract
Instructions
Turn your pan on to a medium heat

Add the vinegar to the milk and stir. Set aside to turn into a vegan buttermilk. It will become a little lumpy when its ready. This will need about 5 minutes.

When the buttermilk is ready, combine all the ingredients into a mixing bowl and mix until smooth. If you have mashed bananas instead of blended bananas, I recommend you mix all the ingredients before adding the banana in order to avoid lumps.

Grease your hot pan with a teaspoon of oil and spoon your batter onto your pan. Flip your pancakes carefully when you see that the bubbles have stopped opening and closing. (For pikelets, I find a heaped teaspoon is a good measurement, for pancakes a tablespoon works best). Cook until the other side of your pancake is cooked and remove from heat.